▸ Ready for that critical moment
Ready for that critical moment
MAX ESCHLBÖCK-BAUER
Service engineer at Rosenbauer and member of the Mistelbach volunteer fire service.
The teams ensure they are always ready for operation by maintaining their devices. Rosenbauer is always at their side thanks to the 24/7 service.
When one deployment is finished, you have to prepare for the next one – this is the other, more mundane aspect of the everyday life of a firefighter. A deployment is over only once the vehicles, devices and personal protective equipment used are ready for use again – and the same goes for drills. Even after an exhausting nighttime deployment lasting several hours, firefighters have a lot to do when they return to the station. They have to clean the vehicles inside and out; clean their tools and devices so that they are ready for use again; replace missing or faulty equipment; refuel the vehicles and top up the necessary fluids; remove waste materials; drain the pumps (if they were used); rinse and vacuum-dry equipment if foam was used; replace used breathing protection devices and see if their personal protective equipment also needs replacing. Only after "fatigue duty" do firefighters have a chance to recover from the stress of a deployment – provided, that is, they don't have to jump straight back into their vehicles to attend another emergency.
The duty to make all equipment ready again for immediate use or replace it with performance-tested equipment ensures that fire services can do their job. Only when vehicles and devices are safe to operate and in full working order can they provide effective support.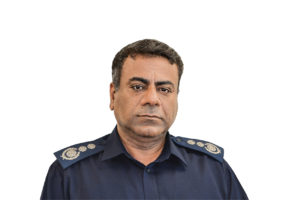 "Rosenbauer grants an up time for the fleet above 90% and facilitates all necessary maintenance and service procedures."
ADEL ALI JASSIM
DIRECTOR OF FIRE FIGHTING AND RESCUE DEPARTMENT, QATAR CIVIL AVIATION AUTHORITY, DOHA

While the vehicle and loading checks following deployments/drills are performed by the vehicle crews, all the other checks as well as all maintenance and servicing activities are performed by the vehicle and equipment managers. These are trained specialists who, as well as commander and machine operator training, have undergone additional training and are also authorized to perform/arrange for and monitor the tests on firefighting systems and equipment. They are usually firefighters with experience working as, for example, car mechanics, locksmiths or electricians.
Lifting devices (cranes, winches, lift pads, etc.), safety devices such as firefighting ropes, retaining straps, slings, ladders, rescue cushions as well as breathing protection and measuring devices, for example, undergo regular visual and functional tests. Fire service vehicles are required to undergo technical inspections at defined intervals. Truckmounted pumps, portable fire pumps, generators and hydraulic/electric rescue equipment also have to be tested in accordance with official regulations.
Rosenbauer supports fire services as a skilled and responsible manufacturer and provider. On the one hand, the company acts as a certified testing institute for firefighting centrifugal pumps – whether from Rosenbauer or third parties – in accordance with EN 1028 or DIN 14420; on the other, it offers the Safety CHECK service for safety-relevant devices of all kinds, where specially authorized Rosenbauer service technicians perform all the necessary and legally required safety inspections and confirm these with a test report and test badge.
In many fire departments, especially smaller ones, the servicing technician is something of a "Jack of all trades". They are as much responsible for changing an old light bulb in the fire station as they are for ensuring adherence to inspection dates for portable pumps and preparing emergency vehicles for winter service.
Once a fire department reaches a certain size, these tasks have to be distributed among several people. So, for example, an in-house radio technician is responsible for all radio equipment and can carry out any necessary repairs in their own workshop without anybody else's help. Specially trained technicians are responsible for all breathing protection equipment, diving equipment and hazmat suits test and clean them in purpose-built workshops. Clothing technicians manage the closet and, for example, arrange for dirty or contaminated personal protective equipment to be cleaned.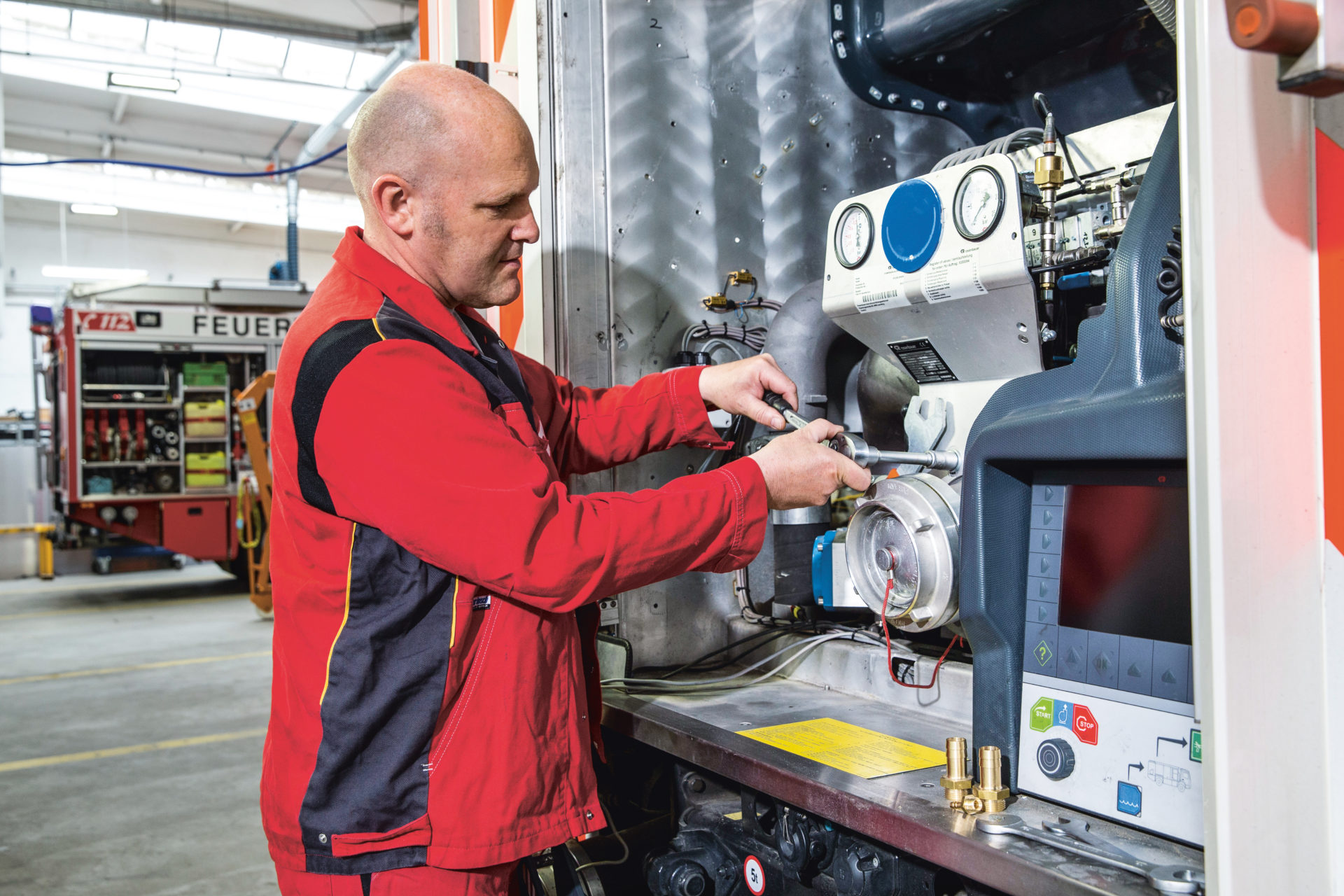 PRODUCT QUALITY
There is a focus on the subsequent service-friendliness of products as early as the design stage.
Rosenbauer supports servicing technicians by offering machinery and equipment for use in the fire station and designed to make fatigue duty in workshops easier, more efficient and, in many cases, more cost-effective. These include stand-alone devices for cleaning boots, helmets and masks as well as complete processing lines for breathing protection equipment comprising washing machines, disinfection systems and drying cabinets.
A complete hose workshop can also be set up with products from the Rosenbauer catalog – from reel test benches and single/double-hose washing machines through to vacuum hose dryers and reels. Together with a contractual partner, Rosenbauer offers a professional and environmentally friendly washing and impregnation service (including chemical protection to DIN 32763) for personal protective equipment involving washing processes and agents specially tailored to the materials used for firefighting clothing.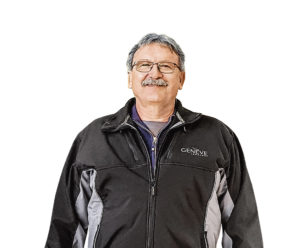 "The regular technical training of maintenance personnel is important to us."
MARTIN BICHSEL
HEAD OF VEHICLES AT GENEVA AIRPORT

Rosenbauer is also a highly dependable service partner to fire departments all over the world. The service offer encompasses everything from value-retaining inspections – i.e. status and functional tests for individual devices – through to fleet management. This service is especially valuable for large firefighting organizations, who are increasingly outsourcing all fleet servicing tasks. Rosenbauer has concluded multi-year service contracts with several airport and industrial park operators and ensures the operational readiness of the ARFF vehicles stationed at the airport, for example, in Doha. Adel Ali Jassim, Director of Fire Fighting and Rescue Department, Qatar Civil Aviation Authority, Doha: "A service crew from Rosenbauer ensures operational readiness for our firefighting fleet at Hamad International Airport in Doha. The technical crew is available at site during normal working hours and beyond that 24/7, 365 days a year, taking care of the complete fleet, which includes several PANTHERs, escape stairs and municipal firefighting trucks. Rosenbauer grants an up time for the fleet above 90% and facilitates all necessary maintenance and service procedures. This allows us to focus on our core duty 'Safe Lives and Protect Assets'. The expansion of the service business is part of Rosenbauer's growth strategy. From vehicle supplier to system provider – this is the path that the company is systematically pursuing. This also includes an increasing number of digital solutions such as the service4fire vehicle management and diagnostics tool and the EMEREC deployment management system. And with more than 25 service locations and around 150 service technicians worldwide, Rosenbauer also has by far the biggest service organization in the firefighting industry. In addition to this, there are another 150 service partners with their own workshop infrastructure.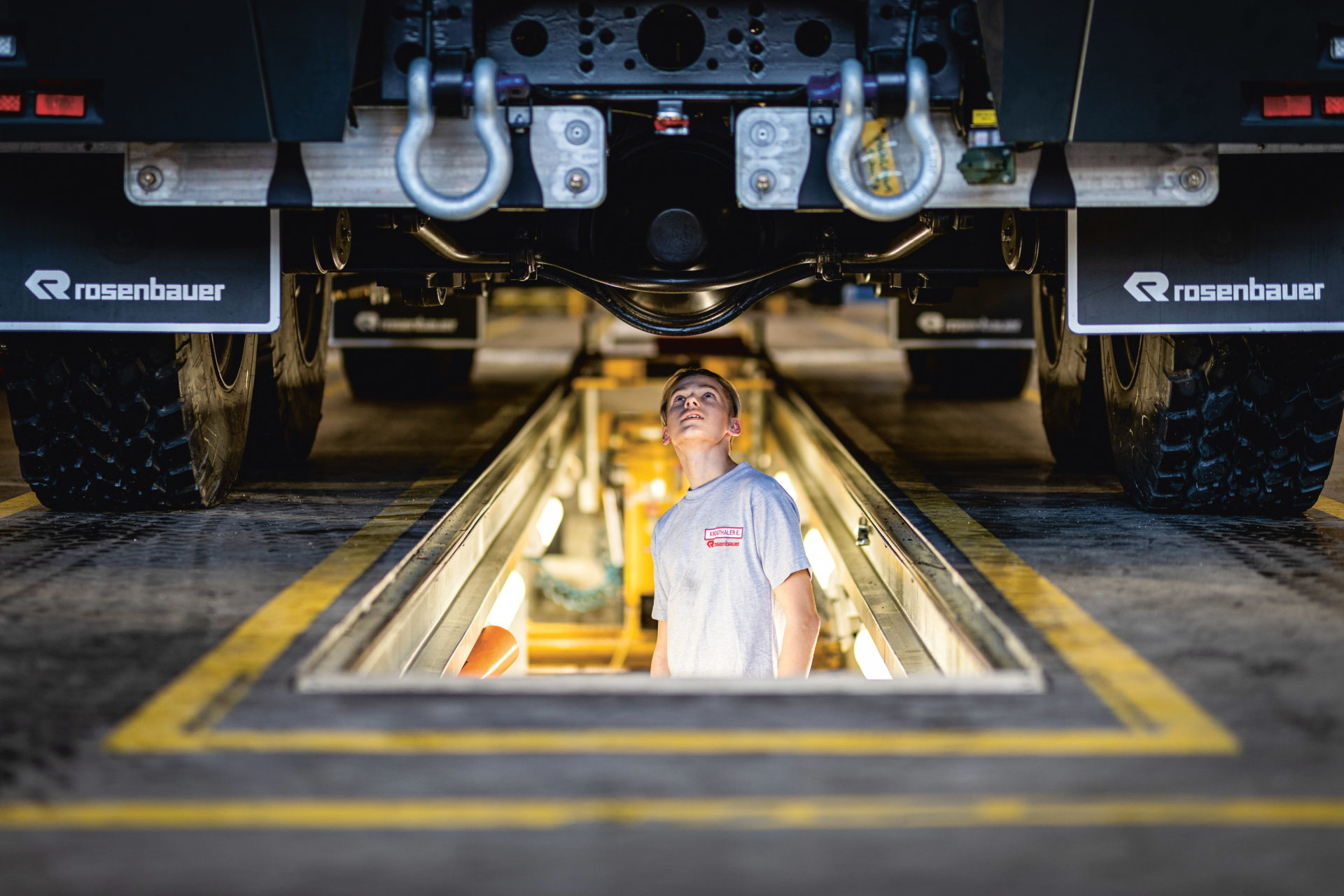 RELIABLE PARTNER
Rosenbauer remains at its customers' sides throughout the entire product lifecycle.
The robustness of firefighting products in challenging, day-to-day operations and the ease with which they can be maintained and serviced are determined as early as the product development and design stages. Rosenbauer's lightweight superstructure is constructed from high-strength aluminum profiles, which feature in nearly all of our vehicle series and have a service life of up to 25 years (depending on the level of use). The vehicles are also designed so that faulty components can be quickly identified and replaced after accidents or if they are damaged. Only high-quality components such as lubricant and maintenance-free mechanical shaft seals are used for the construction of Rosenbauer firefighting pumps. We also ensure that the engine and pump are easy to access. The high quality and service-friendliness of the products are ensured by industrial technology in engineering (3D CAD construction, FEM calculations, computer simulations) and production (CNC machines, the robot-supported production of ladder sets, extinguishing agent tanks and sprinkler pipes, in-process and networked quality control).
Firefighting technology has to function under the most extreme and challenging of conditions, and firefighters have to be able to rely completely on their protective equipment throughout the entire deployment. Rosenbauer not only puts in place the optimal foundations for this, but can also provide – if the customer so wishes – lifetime product support, as confirmed by Martin Bichsel from Geneva Airport: "We have been using Rosenbauer vehicles for years and always have access to the latest technology. The very first PANTHER vehicle came to us in Geneva, as did the first low-floor escape ladder. In addition to the thorough training of operational teams, as an early adopter the regular technical training of maintenance personnel is important to us. This is particularly the case when it comes to electronics. In Rosenbauer we have a reliable and competent partner."
Interested in Rosenbauer Service? You will find all information on our service page.
The text on this page is taken from the Rosenbauer Annual Report 2019. The chapter can be found in the Download Center as a PDF file.