Rosenbauer is the world's leading system provider for preventive firefighting and disaster protection technology. The international group of companies develops and produces vehicles, fire extinguishing systems, fire and safety equipment and digital solutions for professional, industrial, plant and volunteer fire services and systems for stationary firefighting.
The listed company Rosenbauer International AG based in Leonding, Austria, functions as the parent company of the Rosenbauer Group. It is also the largest production company and is responsible for the development, production and distribution of firefighting technology and equipment in addition to the management of the Group.
In 2019, the Rosenbauer Group generated revenues of € 978.1 million. The individual product groups contributed to this as follows: Vehicles 78%, Fire & Safety Equipment 9%, Stationary Fire Protection 2%, Customer Service 7% and Other Revenues 4%. With a global market share1 of at least 15% in terms of the number of units, Rosenbauer is one of the leading manufacturer of firefighting vehicles.
Revenues by product segment in 2019
OBJECTIVES, STRATEGY AND CONTROLLING
As an industry trendsetter, Rosenbauer helps shape fire and disaster prevention with pioneering innovations and outstanding products. Looking ahead as well, the company aims to break new ground in the development of firefighting technology. Rosenbauer strives to be the best in all areas. Its primary business goal is to achieve sustainably profitable growth and to continuously increase the enterprise value of the company. Rosenbauer benefits from the company's strengths in implementing this claim to leadership:
Its global presence and comprehensive service offer as the
only system provider for preventive firefighting and disaster
protection technology;
its role as an innovation and technology leader;
its strong, vertical integration and industrial production
methods;
the international reputation of the Rosenbauer brand; and
its skilled and dedicated employees.
As a group of companies that is also aware of its social responsibility, the Rosenbauer Group also considers non-financial factors – mainly in the areas of the environment, human resources and compliance see "Sustainability Report 2019" on this website www.rosenbauer.com.
The Rosenbauer Group operates production sites in twelve countries on three continents and meets all major world standards with products manufactured in Europe, the US and 1 Latest available market data from 2018. Own calculations based on figures from the World Bank and the UNO as well as annual reports and expert estimates. Asia. It also has its own sales and service companies in 14 countries as well as approximately 250 independent trading partners around the world.
Rosenbauer is represented in around 120 countries around the world and therefore has a network that is unique for the international firefighting industry.
Number one for innovations
With its innovative products, Rosenbauer wants to define state-of-the-art technology and actively develop customer demand. Accordingly, research and development are of central importance to the Group. The Rosenbauer innovation process systematically integrates industry-relevant global megatrends, findings from market observation, customers' requirements and employees' suggestions. The Rosenbauer Group holds around 200 patents in the various segments.
The Group invested € 20.2 million in research and development in 2019 (2018: € 15.2 million). This represents 3.0% (2018: 2.7%) of the relevant net proceeds of in-house production. The capitalization rate was 34.4% (2018: 8.6%) and related to developments in Austria, Germany, and the US. A total of 53% (2018: 66%) of development costs in the amount of € 10.8 million (2018: € 10.0 million) were incurred by Rosenbauer International AG, the Groupwide center of expertise for municipal and specialty vehicles, firefighting systems and safety equipment.
Research and development/R&D ratio
Hybrid firefighting vehicle almost ready for series production
Global megatrends such as global warming, demographic change, the breakdown of traditional role models, urbanization and digitalization will radically change fire services in the years ahead. Rosenbauer was the first in the industry to pick up on these developments and presented its vision for the fire truck of the future with the Concept Fire Truck (CFT) back in 2016.
By using electric drives, not only can the CFT be operated with zero emissions, but it also has a completely new vehicle architecture that optimally meets the future needs of fire services and sets new benchmarks in functionality and ergonomics. The main field of application for CFT technology is initially the municipal firefighting vehicle, but plans are also in place for it to subsequently be transferred to other types of vehicles.
In the reporting year, the Concept Fire Truck has passed important milestones on its way to becoming a series vehicle. For one thing, important technology partners for cooperation were gained in Volvo Penta and BMW and, for another, Amsterdam, Berlin, Dubai, Los Angeles and Oslo have already placed orders for pre-series vehicles. The first customer vehicle is to be sent to the Berlin fire service at the start of 2021.
Rosenbauer estimates the global market for innovative CFT technology at around 3,200 vehicles by 2030 and there could be 700 to 800 electric firefighting vehicles in operation in Europe by 2025.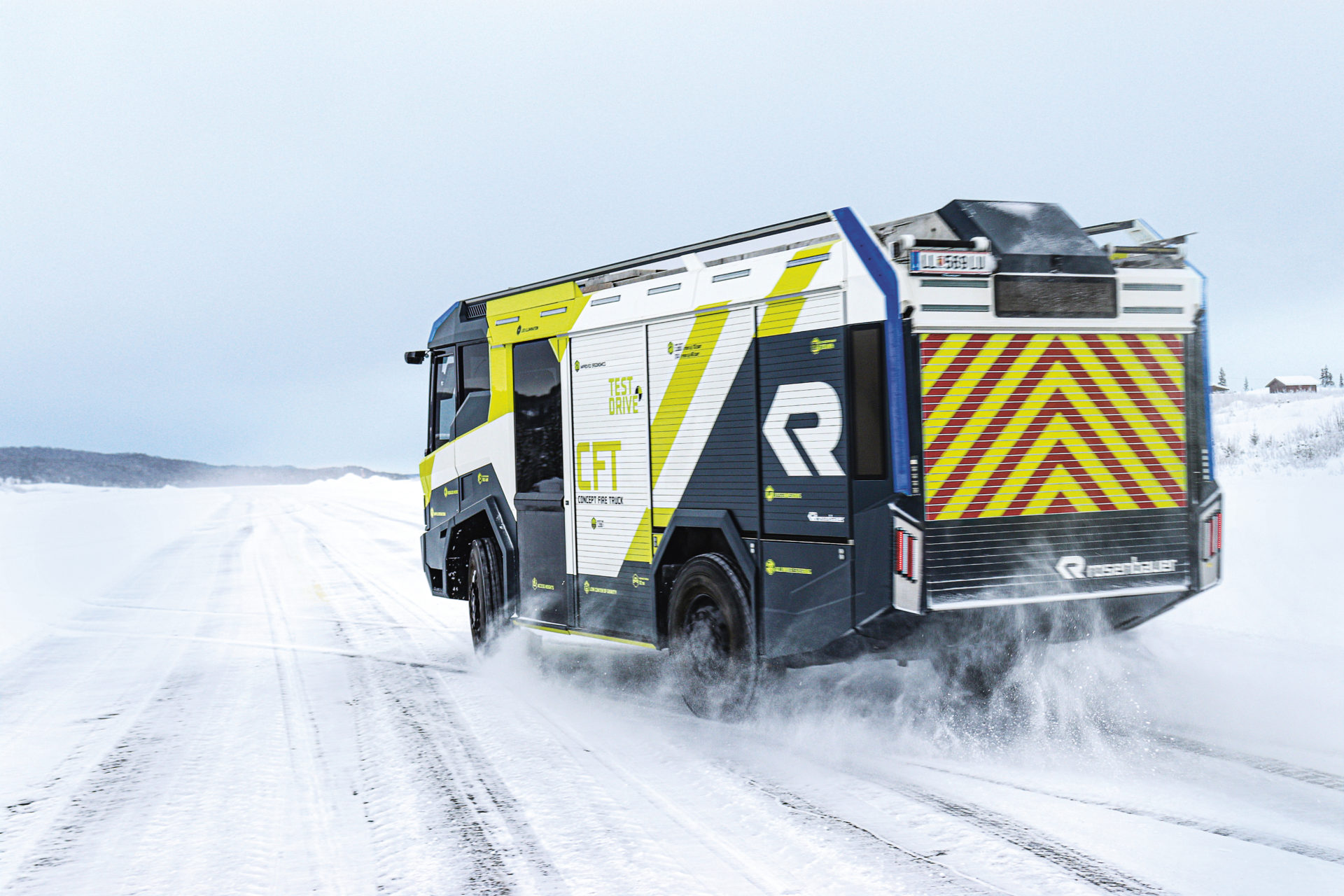 First aerial ladder simulator for more efficient training
Training without causing any damage or harming others – the advantages of simulators are very persuasive. They enable optimal operational preparation without consuming resources or placing emergency service teams under stress. On simulators, it is possible to offer realistic, cost-effective and risk-free training that can be varied, repeated, discussed in debriefing sessions and evaluated as required.
In the year under review, Rosenbauer expanded the product portfolio and brought the new Aerial Ladder Tactical Simulator to the market. This is a VR-based (virtual reality) training system that can primarily be used for practicing how to position an aerial ladder correctly in various environments. It mainly comprises two high-performance laptops, VR glasses, joysticks and the original control console of a Rosenbauer aerial ladder. The trainee can teleport to a virtual city, identify operating sites, select the correct installation location and prop up, erect and pivot the aerial ladder. The mobile system can be set up in any medium- sized training room and is ready to use in 15 minutes.
In addition to the Aerial Ladder Tactical Simulator, Rosenbauer has simulators for emergency operations (Emergency Response Driving Simulator) and ARFF vehicles (PANTHER Tactical Simulator). The latter is available in various versions, from the desktop variant to the simulator with original cab, installed in a transportable container. The devices are rented or sold, with simulator training also offered via the Rosenbauer training program.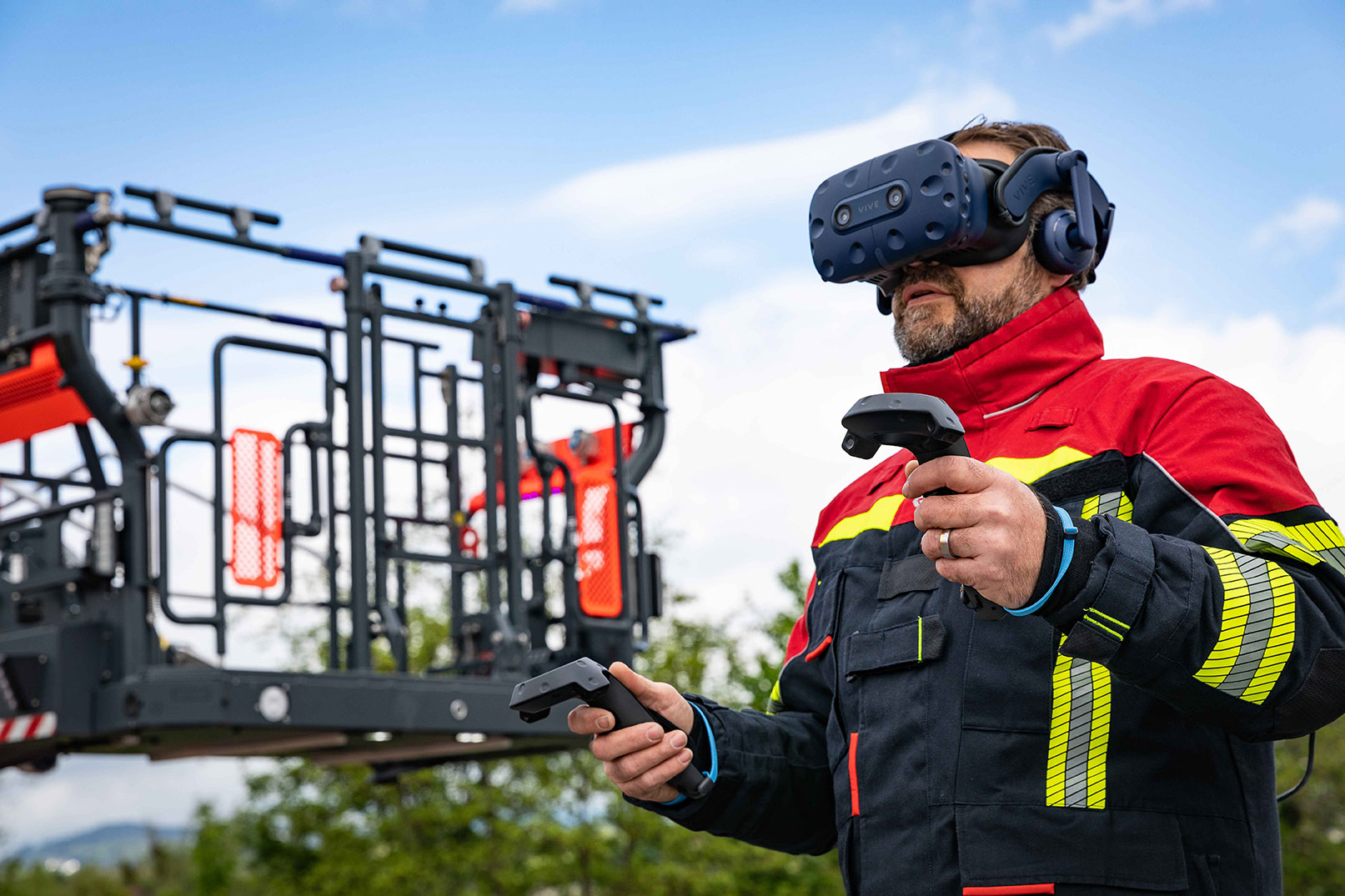 Aerial Ladder Tactical Simulator
New platform with improved rescue capacity
With the B34 2.0, Rosenbauer presented the next generation of its standard hydraulic firefighting and rescue platform in the year under review. Substantial parts were reworked and equipped with new, weight-optimized components. This means that a three-axle chassis is no longer required. Instead, the B34 2.0 can be built on a two-axle vehicle with a gross vehicle weight of 18 t – a clear competitive edge.
A newly developed telescopic boom ensures that the boom set can be extended further than that of a B32 and reaches a rescue height of 34 meters with the cage attached. High-strength steels give the telescopic boom the required strength and robustness. The tried-and-tested Rosenbauer horizontal-vertical jacks with stepless width detection ensure stability in any situation. Completing the B34 2.0 is its rescue ladder, attached to the aerial rescue set, which allows personnel to descend safely – as does the aerial ladder as a secondary rescue route.
A special highlight is the newly overhauled rescue cage. The payload is 500 kg with extensive equipment. The B34 2.0's rescue cage can be prepared for different application scenarios in just a few steps. All adapters and attachments required for this purpose are stored within the vehicle. Barrier-free access to the rescue cage can be achieved by opening the front of the cage.
The B34 2.0 is also fitted with basic extinguishing equipment, consisting of an infeed in the rear of the vehicle, a telescopic water riser (TWS) and a turret situated at the front of the cage. The cage turret's performance has been increased by almost 30% to 3,800 l/min as part of this overhaul.
Innovative early fire detection system
Last fall, Rosenbauer Brandschutz initiated the market launch of IGNIS3D. The new infrared camera system for early fire detection is the first result of a strategic innovative partnership with M-U-T (Maschinen-Umwelttechnik-Transportanlagen) and uses longwave infrared video technology for contactless surface temperature measuring.
As the world's first camera system of its kind, the IGNIS3D measures three-dimensional information with ingenious laser range finding and subsequently uses this information to precisely cool down potential hazards. IGNIS3D is offered under the Rosenbauer brand.
The text on this page is an excerpt from the Rosenbauer Annual Report 2019, the complete chapter can be found in the Download Center as a PDF file.