In Discussion with the CEO
Dieter Siegel, CEO of Rosenbauer International, on the changes that digitalization is bringing to fire departments.

»We have the resources to break new technological ground.«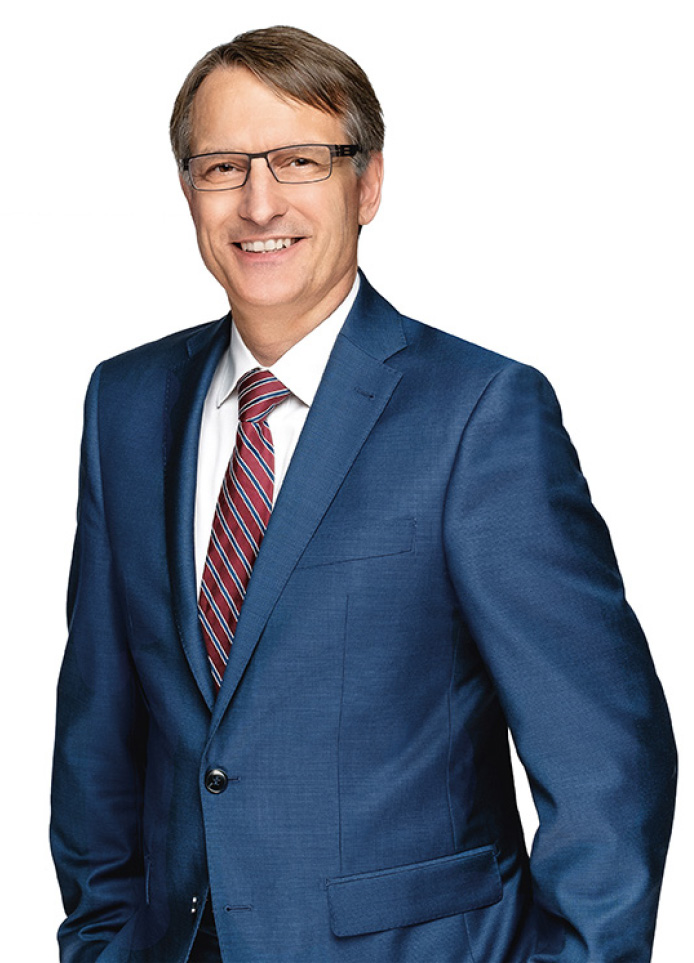 Mr. Siegel, how will digitalization change fire departments?
Siegel: I don't think the fire department of the future will be much different structurally than it is today. A few years ago, for example, it was feared that the volunteering system was coming to an end, but it is now clear that the popularity of volunteering continues unabated. However, there will be changes in everyday operations. Here, digitalization will primarily support analog work and free the emergency services from restrictions. Numerous routine firefighting operations will be automated or digitalized. Assistance systems will be integrated into analog technology and play an increasingly important role.
Will the fire service vehicle of the future possibly be autonomous?
Siegel: I don't think there will be autonomous emergency vehicles. But we will adopt sensible developments from this area. I'm thinking, for example, of the automatic detection of people or objects to make emergency driving safer.
What importance will deployment managementn systems have?
Siegel: These systems will take emergency service communications to a new level. Fire and rescue services not being able to communicate directly with each other will be a thing of the past. Digitalization will connect them. There will be a wealth of opportunities to obtain data relevant to operation while they are still on their way to the scene, thus quickly eliminating information deficits in deployment planning. In the future, these systems will also be able to access sensor data from smart cities.
What changes will digitalization bring to product development?
Siegel: We will need to take a more integrated approach to the products and also think about digital features when further developing conventional technology. And of course we are breaking new ground, having to initiate developments that we can't be sure will become established on the market. This requires intensive basic research: you have to build up new expertise within the company, and you also need an equivalent minimum level of resources. In addition, something tangible and demonstrable is needed at an early stage of product development. That's why you can't just do lots of trials, but must focus quickly and then develop professionally and purposefully. And last but not least, every innovation should be accompanied by a business model.
How do you achieve this focus when the topics you are dealing with are in part completely new territory?
Siegel: In this case, you cannot focus on facts, but only on "best beliefs." In addition to the premises mentioned earlier, this requires an early dialog with users in order to assess the development for its practicability and, if necessary, cooperation with other companies, for example specialized start-ups from the technology sector. In addition, an alternative form of organization is likely to be chosen internally. For example, we outsourced the engineering of our electric drive car of the future to a separate development company where the vehicle was developed to series maturity and then handed back to our regular organization for production.
Is the Rosenbauer Group on the right track with the electric firefighting vehicle?
Siegel: Yes, because this product is open to further drive developments and is precisely tailored to fire departments. Moreover, from a current perspective, there will be little comparable competition from vehicles built on electric series chassis. Fire departments all over the world are enthusiastic about the vehicle and confirm our beliefs, one of which stands above all others: our efforts are directed at people who, out of personal drive, help others and society in dangerous situations. We want to support these people in the best possible way.